FLOWING WATER FLOATING CLOUDS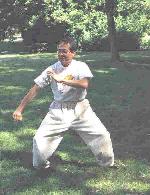 Wahnam Taijiquan demonstrated by Dr Lie Kay Ie of Toronto, Canada
---
This is a private webpage meant for students of Shaolin Wahnam Institute. Those who have not learnt Wahnam Taijiquan may not be able to follow the illustrations given bere as this webpage is not meant for self-learning, but is meant to remind initiated students what they have learnt.
---
Taijiquan, which was initially known as Wudang Kungfu, was evolved by Zhang Zan Feng from Shaolin Kungfu in the 13th century.
There are many styles of Taijiquan, and the style practiced in our school, Shaolin Wahnam, is naturally called Wahnam Taijiquan.
It has characterisitics common to all styles of Taijiquan, such as emphasis on energy flow and internal force, and not on body mechanics or physical strength. Its performance is graceful and elegant, and in its combat application it makes use of circular movements and exploits the opponent's force against himself.
This Wahnam Taijiquan Set illustrated below is demonstrated by Dr Lie Kai Ie of Toronto, Canada.
| | | |
| --- | --- | --- |
| | | |
| Wuji Stance | Lifting Water | Cloud Hands |
---
| | | |
| --- | --- | --- |
| | | |
| Cloud Hands | Cloud Hands | Pound Mortar |
---
| | | |
| --- | --- | --- |
| | | |
| Pound Mortar | Roll Sleeves | Close Up |
---
| | | |
| --- | --- | --- |
| | | |
| Close Up | Single Whip | White Crane |
---
| | | |
| --- | --- | --- |
| | | |
| Green Dragon | Green Dragon | Green Dragon |
---
| | | |
| --- | --- | --- |
| | | |
| Single Whip | Throw Knee | Big Bird |
---
| | | |
| --- | --- | --- |
| | | |
| Throw Ball | Thrust Punch | Seven Star |
---
| | | |
| --- | --- | --- |
| | | |
| Push Muntains | Verticle Punch | Change Hand |
---
| | | |
| --- | --- | --- |
| | | |
| White Crane | Repulse Monkey | Repulse Monkey |
---
| | | |
| --- | --- | --- |
| | | |
| Repulse Monkey | Elbow Strike | Animal Head |
---
| | | |
| --- | --- | --- |
| | | |
| Throw Hand | Empty Bag | Empty Bag |
---
| | | |
| --- | --- | --- |
| | | |
| Cannon Punch | Shake Water | Shake Water |
---
| | | |
| --- | --- | --- |
| | | |
| Cross Hands | Snap Kick | Snap Kick |
---
| | | |
| --- | --- | --- |
| | | |
| Cross Hands | Snap Kick | Snap Kick |
---
| | | |
| --- | --- | --- |
| | | |
| Low Punch | Strike Tiger | Open Mouth |
---
| | | |
| --- | --- | --- |
| | | |
| Double Kicks | Double Kicks | Double Kicks |
---
| | | |
| --- | --- | --- |
| | | |
| Double Bows | Punch | Ward Off |
---
| | | |
| --- | --- | --- |
| | | |
| Ward Off | Thrust Kick | Thrust Kick |
---
| | | |
| --- | --- | --- |
| | | |
| Side Kick | Side Kick | Roll Sleeves |
---
| | | |
| --- | --- | --- |
| | | |
| Single Whip | Golden Snake | Earth Dragon |
---
| | | |
| --- | --- | --- |
| | | |
| Cross Fists | Golden Cockerel | Golden Coclerel |
---
| | | |
| --- | --- | --- |
| | | |
| Present Plum | Hanging Fists | Hanging Fists |
---
| | | |
| --- | --- | --- |
| | | |
| Hanging Fists | Hanging Fists | Pluck Flowers |
---
| | | |
| --- | --- | --- |
| | | |
| Pluck Flowers | Pluck Flowers | Cannon Punch |
---
| | | |
| --- | --- | --- |
| | | |
| Pluck Flowers | Pluck Flowers | Pluck Flowers |
---
| | | |
| --- | --- | --- |
| | | |
| Cannon Punch | Separate Mane | Separate Mane |
---
| | | |
| --- | --- | --- |
| | | |
| Separate Mane | Separate Mane | Extend Hand |
---
| | | |
| --- | --- | --- |
| | | |
| Extend Hand | Jade Girl | Jade Girl |
---
| | | |
| --- | --- | --- |
| | | |
| Cloud Hands | Cloud Hands | Cloud Hands |
---
| | | |
| --- | --- | --- |
| | | |
| Cloud Hands | Cloud Hands | Cloud Hands |
---
| | | |
| --- | --- | --- |
| | | |
| Cloud Hands | White Snake | Cloud Hands |
---
| | | |
| --- | --- | --- |
| | | |
| Sway Lotus | Sway Lotus | Roll Sleeves |
---
| | | |
| --- | --- | --- |
| | | |
| Roll Sleeves | Pound Mortar | Pound Mortar |
LINKS
Video Series
Courses and Classes