TWELVE COMBAT SEQUENCES OF TANTUI (CANTERBURY)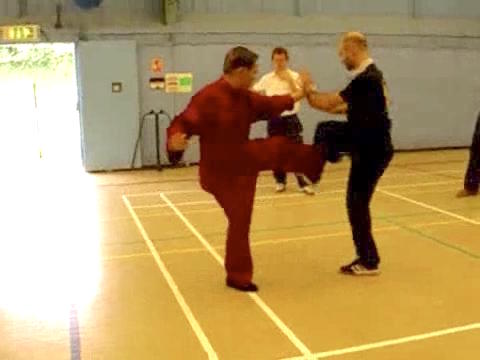 ---
Tantui is the essence of Northern Shaolin, and is famous for kicks. These Northern Shaolin kicks are different form kicks in Taekwondo, Muay Thai and Kick-Boxing. Shaolin kicks are purposely inconspicuous. If one just looks at the forms, without knowing the application, he may not even realize the kicks! The Tantui combat sequences here were taught by Grandmaster Wong at the UK Summer Camp in 2007.
---
You can also view all the videos here
---
Please click on the pictures to view the videos.
Other video series showing the 12 combat sequences of Tantui can be found here and here.
The 12 Tantui sequences in solo practice can be found here and here.
Please note: you can download the video clips onto your own computer and view them at your leisure. Place your computer pointer at the picture or one of the links, and right click. Choose "Save Target As". Select the directory or sub-directory where you wish to keep the video clip. Click "Save".
Sequence 1: Thrust Punch - Big Boss Offers Wine
Sequence 2: Kicking Attack - Rising Dragon Galloping Tiger
Sequence 3: Chopping Attack - Second Brother Chops Firewood
Sequence 4: Hook Thrust - Green Dragon Exhibits Tail
Sequence 5: Lift Strike - Crossroad Lift Strike
Sequence 6: Double Spread - Embrace Moon in Bosom
Sequence 7: Single Spread - Single Strike Bell Sounds
Sequence 8: Thrust Kick - Shoot Spear at Mystical Pavilion
Sequence 9: Break Lock - Second Brother Breaks Lock
Sequence 10: Arrow Spring - Swallow Flies through Clouds
Sequence 11: Hook Hang - Arrest Horse at Cliff
Sequence 12: Side Fist - Turn Body Strike Rock
---
You can also view all the videos here
LINKS
Courses and Classes