The Sabah Kungfu Show March 2007 — Overview 2
The 16 Combat Sequences
By the courtesy of Ogingo Videography, Sabah, Malaysia.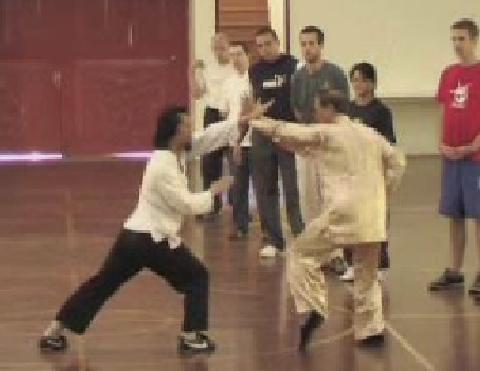 ---
---
The 16 combat sequences which form the basic Shaolin combat training in our school are demonstrated. They cover all the four categories of attack, namely striking, kicking, felling and gripping.
Click here to download.
The size of the video clip is 3.98 MB
NOTE: You can download the video clip onto your own computer and view them at your leisure. Place your computer pointer at the picture or one of the links, and right click. Choose "Save Target As". Select the directory or sub-directory where you wish to keep the video clip. Click "Save".
---
You can also view the video here
---
We wish to thank Mr Godfery Kissey of Ogingo Videography, Penampang, Sabah, Malaysia for kindly provideing us with the videos. (Godfery is also a member of our Shaolin Wahnam Family.) His telephone number is 60-88-731788, and e-mail address is godfery@pc.jaring.my.
LINKS
Review of the Intensive Shaolin Kungfu Course in Sabah in March 2007
Overview 2 : The 16 Combat Sequences
---
You can also view the video here
---
Courses and Classes