HUNGRY TIGER SNATCHES GOAT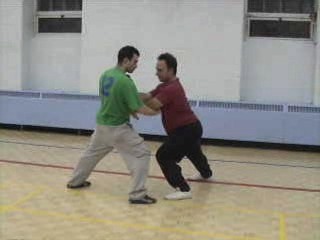 Eugene attacks Anton with "Double Dragons Play with Pearl". Following Eugene's momentum, Anton turns his head accordingly and counters with "Hungry Tiger Snatches Goat". A good stance with a strong, flexible waist is necessary for this counter.
The size of the video clip is 1100 KB.
Click here to download.
LINKS
Courses and Classes