KUNGFU THAT CANNOT BE USED FOR COMBAT CEASES TO BE KUNGFU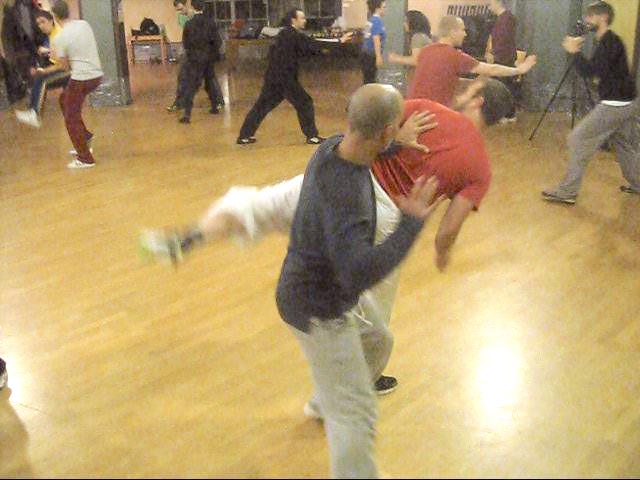 ---
---
Question
I will first of all state that it is an honor to correspond with you. I have been practicing Kung Fu of several styles both for performance and application sparring for a little over 14 years now.
— Hoffman, USA
---
Answer
Thank you for your kind words.
I am glad that you practice combat application in your kungfu training. Without combat application, kungfu ceases to be kungfu. It becomes gymnastics or a demonstrative sport, which has its benefits too, but it ceases to be a martial art. Unfortunately the majority of kungfu practitioners today, including masters, are incompetent in kungfu combat application, but they lack the honesty and courage to admit it.
Many resort to borrowing techniques and methods from other martial arts, like Taekwondo and Kick-Boxing, to rectify their lack of kungfu combat application. Some may have become formidable fighters using these borrowed techniques, but they still cannot use kungfu for combat. Some even go to the ridiculous extent of saying that kungfu forms cannot be used in combat, and that using Kick-Boxing is kungfu.
Though you have not stated it, I suspect that you are one of those who use other martial art techniques, probably Kick-Boxing, instead of kungfu in your sparring. Your attempt to rectify the inadequacy of kungfu combat application is admirable but your action is mis-directed. You should attempt to use kungfu forms for sparring instead. You have spent 14 years practicing kungfu forms. It is worth to spend one whole year to learn and practice genuine kungfu combat application, so that what you have learnt all these years will not go to waste.
I have posted a lot of videos on my website , not only showing but also explaining secrets that masters in the past kept only for their top students. By following and practicing the examples shown in the videos, you can attain a reasonable level of kungfu combat application.
I would like to share a very important point that kungfu practitioners who attempt free sparring may not know. They think that by attempting free sparring, they can defend themselves. They don't. They may be able to hit others, but they still cannot defend themselves.
And many have the perverted view that one must be willing to take some hits and kicks to learn a martial art. It is certainly not true. In fact a main reason why any person learns a martial art is not to be hit at all. The big irony is that not only many martial artists cannot defend themselves despite their training, they become more unhealthy due to sustained injuries in free sparring.
---
The above is taken from Question 1 of January 2008 Part 3 of the Selection of Questions and Answers.
LINKS
Special Topics from Selection of Questions and Answers
Courses and Classes