IN SEARCH OF KUNGFU SECRETS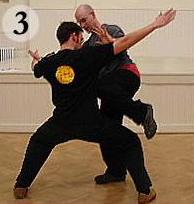 Sifu Simon Brooks applies "Golden Cockerel Stands Solitarily" to counter Sifu Marcus Santer's throw
---
The following discussion is reproduced from the thread A Discussion on Yielding started in the Shaolin Wahnam Discussion Forum on 14th February 2006. The name of a main contributor to this thread is removed as requested by him, and is replaced by "Challenger" or any term appropriate to the occasion. As the discussion is long, it is presented here in parts.
---

Sifu Marcus Santer
Instructor, Shaolin Wahnam England
13th April 2006
Hello everyone,
I am still waiting for confirmation from Sifu that it is okay for me to discuss a Shaolin Wahnam Institute secret and share a "secret about secrets" here on this thread. Whilst I wait for permission I can make the following post as it is completely neutral. I won't be able to make any more posts on this "topic" until permission is either granted or denied. Thank you for bearing with me on this. The wait will be worth it.
As Markus has rightly pointed out (in this post, dated 9th April , there are no techniques where counters are impossible. In the illustrations, as Simon attacks me with Golden Cockerel Stands Solitarily , there are a few possible counters. I may, for example, kick Simon's groin with my leg, as Markus has suggested. Depending on spacing and other factors, I can use my front leg or my back leg to kick him. Or I may strike Simon's groin with my hand.
Does Simon know about these possible counters to his "Golden Cockerel"? Of course, he does. He was not made an assistant instructor for no good reasons. Indeed all Shaolin Kungfu and Wahnam Taijiquan students who have learnt kicks would know possible counters to kicks. Why? Because this has been systematically arranged in our training programme.
We even share this information with outsiders! For example, refer to Happy Bird Hops up Branch in the Shaolin Wahnam Review Section.
There is a major difference between concepts, techniques, teachers, practitioners, etc who are high-level and those who are low-level. In a low-level concept, for instance, practitioners cannot predict what their opponents' responses will be, whereas in a high-level concept, they can.
I look forward to posting more soon -- fingers crossed. (SMILE)
Kind regards
Marcus
---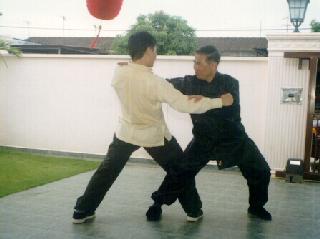 Sifu Wong uses "Fell Tree with Roots" to fell Sifu Goh Kok Hin
---

Sifu Marcus Santer
Instructor, Shaolin Wahnam England
15th April 2006
Great news!
Sifu has very generously given me permission (with a few "edits") to continue. So without further ado here is my next post:
Let's say I counter Simon's Golden Cockerel with "Santer Rings the Gong" (Thanks Markus for the colourful terminology), otherwise known as striking Simon's groin with my hand, or "Santer Kicking the Gong" (kicking with either leg). A high level counter Simon may use is "Embracing Dragon Kick".
"Embracing Dragon Kick" is one of the secrets Sifu teaches only to his inner chamber disciples or rarely to selected students. I am certain that many of Sifu's inner chamber disciples can remember an occasion where after demonstrating a fantastic move, Sifu has said something like: "This is a Shaolin (or Wahnam Taijiquan) secret. Teach it only to your selected students".
Therefore I am unable to reveal "Embracing Dragon Kick" to the general public, but I can share this secret with Shaolin Wahnam students. I have consulted Sifu on this and he has generously given me permission to do so. Therefore, those Shaolin Wahnam students who are interested to know this deadly kick, please contact your instructor. You can find a list of UK instructors here at the Shaolin Wahnam Institute - UK website. There is also a world wide list of authorised Shaolin Wahnam instructors available here
Nevertheless, for non-Shaolin Wahnam students who may be interested, I can provide some hints. I also have Sifu's permission to do so. Sifu has just released a series of video clips showing free sparring at the Special Shaolin Kung Fu course, where Markus also participated. This deadly kick "Embracing Dragon Kick" is not overtly shown but, a few video clips show a major technique necessary for the kick. This technique may suggest what the kick is about. This technique is also clearly shown in Sifu's recent series. Have fun in your search.
My next post before continuing with Yielding against grips will look a little further at "Secrets" and I will share a secret about secrets with you. I will try to post again as soon as possible, but it's Easter Weekend and there are lots of Chocolate Easter eggs for Ollie to find around the house. I shall demonstrate my compassion by helping him to eat them (LAUGH), not to mention relatives to visit. Keep checking this thread and I will post ASAP.
Kind regards and Happy Easter.
Marcus
---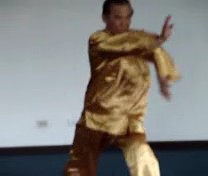 How would you use a pattern like "Green Dragon Shoots Pearl" as shown above to counter a throwing attack like "Fell Tree with Roots"
---

Hubert
Shaolin Wahnam France
17th April 2006
While we are waiting for Marcus's follow-up, here is the sequence I was talking about, including the knee attack (is it actually called "golden cockerel stands solitary"?). Here I am using "green dragon shoots pearl" to counter that attack.
There are a few very nice applications of yielding, so it fits the thread, after all. (the responder is in italic)
Lohan Asks The Way
Single Tiger Emerges From Cave
Fierce Tiger Speeds Through Valley
Single Tiger Emerges From Cave
Felling Tree With Roots
Golden Cockerel Stands Solitary (if that's the right name - the knee attack)
Green Dragon Shoots Pearl
Single Knife
Sweep A Thousand Armies
Single Knife
Single Tiger Emerges From Cave
As I said, it's a good sequence to practice different applications of yielding, and their counters (i.e "single knife" against "green dragon", or "green dragon" against "golden cockerel"). You can try it for fun. And you can even follow up with sequence 8 at mid point if you want!
---

Sifu Marcus Santer
Instructor, Shaolin Wahnam England
15th April 2006
Here is my last post on "secrets", my next post will focus on Yielding and Grips, promise. (SMILE)
By now it may be quite well known that we in Shaolin Wahnam share a lot of secrets, even with outsiders. Understandably this may cause some Shaolin Wahnam members to wonder whether this may allow outsiders to use our own secrets against us. Sifu has often said that we have so many secrets that we can afford to share a few with the general public. More important than knowing the secrets theoretically are the skills in applying the secret techniques. Even if you know the secret techniques but lack the necessary skills, you will not be successful in applying them. And skills need to be learnt personally from a competent instructor.
But what about opponents who are already skilful? If they know your secret techniques, will they be able to use them to defeat you? Now it is getting more and more interesting. I am about to tell you "a secret about secrets".
Sifu has told us that if a master tells you his secret techniques, you can be sure he has sufficient ways to counter them. So, if after knowing the secret of "Embracing Dragon Kick" from your instructor, you try to use it on him during your free sparring, don't be surprised that he will counter you easily.
Now if someone cries out, "Why don't Shaolin Wahnam share all their secrets?", he is being not only na've but unreasonable. We preserve the right to decide what secrets to share publicly and what secrets to keep to ourselves. Personally, I think it is incredible what Sifu has shared — secrets that most masters may only tell their most advanced and dedicated students.
Finally I would advise students not to get caught up with "secrets". I think one of the most important pieces of advice ever offered is to correctly practice every single day that which you have been taught. This is the surest way to Mastery.
Kind regards
Marcus
LINKS
A Discussion on Yielding
Courses and Classes