OPENING YOUR HEART TO COSMIC ENERGY
Niklas and Dr Damian Kissey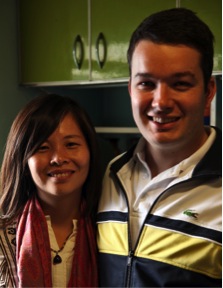 Opening the Heart
---
The following discussion is reproduced from the thread Sexual Energy started in the Shaolin Wahnam Discussion Forum on 8th November 2006.
---
Niklas
Shaolin Wahnam Sweden
8th November 2006
Sexual Energy
I have lately started to smile more and more from the heart and it sometimes gets so strong that I feel like I am merging with cosmos.
When this happens I feel very strong energy building up in my lower spine. The more I merge, stronger and stronger energy builds up and it starts to move towards my heart.
When this happens I start to get erection and leak fluid (the one that prepare us males for lovemaking). And I feel very strong sexual desire arising.
I do not have a woman at the moment but when I am smiling and merging with the cosmos I feel I really want to share this powerful and beautiful energy. Making love in that state of mind would be magical.
I am wondering if I will eventually loose my sexual desire if I let all energy wander up the spine?
Niklas
__________________ "If a man is called to be a streetsweeper, he should sweep streets even as Michelangelo painted, or Beethoven played music, or Shakespeare wrote poetry. He should sweep streets so well that all the hosts of heaven and earth will pause to say, here lived a great streetsweeper who did his job well." Martin Luther King, Jr.
---
Dr Damian Kissey
Senior Disciple of Grandmaster Wong
Shaolin Wahnam Sabah
8th November 2006
Multipurpose Energy
Dear Niklas,
Seems that your practice is progressing normally.
So what else may be done:
Do more physical or manual work
Share your sexual energy in a wholesome relationship.
When in quiescent mode, let the energy wander naturally but not forced .....to other body parts like down the legs or up the spine or around the small universe or whole of body.
Go into self manifested chi flow.
No irrelevant sexual thoughts during chi kung practice.
Or maybe it's time to do Shaolin Kungfu or Wahnam Taijiquan.
Best wishes in your daily life ,
Damian
__________________
Damian Kissey
Shaolin Wahnam Sabah, Malaysia.
www.shaolinwahnamsabah.com
---
Niklas
Shaolin Wahnam Sweden
9th November 2006
Sexual Energy
Dear Damian,
I am starting to realize that I am having more and more energy. Its weird since I have all my life been struggling with too little energy.
My life is organized in a way to maintain and to fill me up with energy to be able to handle the basic things in life.
So I am not used to this situation since it totally will change my life from maintaining to releasing.
I went out running yesterday for the first time since my football training ended in September. I just went out and started to run and stopped 6 kilometers later, and it felt like I hadn't run at all. I felt that I had energy to run again right afterwards.
Usually I need a warm-up, stretch and to gradually increase the speed and I always feel exhausted afterwards no matter how prepared or "well" trained I am.
This experience opened up my eyes to a new world

Thanks Damian for your post. It was exactly what I needed at the moment.
I will try to use my extra energy wisely to the best benefit of myself and others.
Sincerely.

__________________
"If a man is called to be a streetsweeper, he should sweep streets even as Michelangelo painted, or Beethoven played music, or Shakespeare wrote poetry. He should sweep streets so well that all the hosts of heaven and earth will pause to say, here lived a great streetsweeper who did his job well." Martin Luther King, Jr.Open
LINKS
Courses and Classes