IN THE AMAZON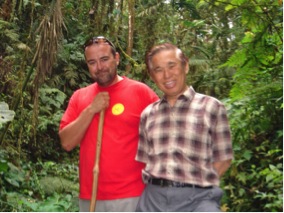 ---
---
We took a few boat trips to see the flora and fauna of the Amazon jungle. The water in the tributary our boat travelled along was flowing very fast. We saw some monkeys, many colourful birds, and alligators. It was said that there were piranhas in the tributary.
I remember seeing a documentary film when I was a child that a boatman put a chicken into a tributary of the Amazon River for a minute, and when he took it out there were only bones left of the chicken. All the meat was devoured by piranhas in the tributary.
I asked Jose Antonio whether what was depicted in the film was true of the ferocity of piranhas.
"No, sifu, that was exaggerated," Jose Antonio assured. "Piranhas are dangerous when they come in great numbers and when blood is present. If a person is not bleeding and there are only some piranhas, they are not dangerous. I have swum in water with some piranhas swimming around."
While talking to the manager in front of the lodge I stayed, I noticed some steps leading down to the gushing tributary of the great Amazon River. I said, "There's so much water even in a small tributary of the Amazon."
"It's rainy season now. There are only about four or five steps here above the tributary water. If you come in February, which is a dry season, you can walk down about twenty steps before touching water."
At night, I went out with a few other people in a boat to a wide open lake to see alligators.
"If you see two spots of light looking at you in the dark when I shine my touch on them, that is an alligator," the boatman commented.
But it was not a dark night. A bright full moon was shining above, making everything silvery on the placid lake about a mile wide and a few miles long. It was magnificently beautiful, reminding me of the famous Chinese musical piece, "Placid Lake Autumn Moon" (平湖秋月).
"There's so much water now," the boatman said. "But during a dry season, there is no water, no lake. You can touch bottom!"
On the way back to Quito, I was hungry while waiting at the small airport at the edge of the Amazon jungle. There was only a stall selling rice with curry chicken. I ordered a plate which did not look impressive, but was pleasantly surprised that it was one of the most delicious meals I ever have eaten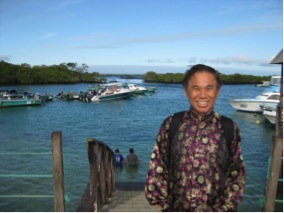 ---
You can read more stories at our Discussion Forum.
Please click here for details to order the special and limited edition. This edition will not be reprinted once it is sold out.
LINKS
The Way of the Master -- Overview