LIMERICK, ADARE AND RING OF KERRY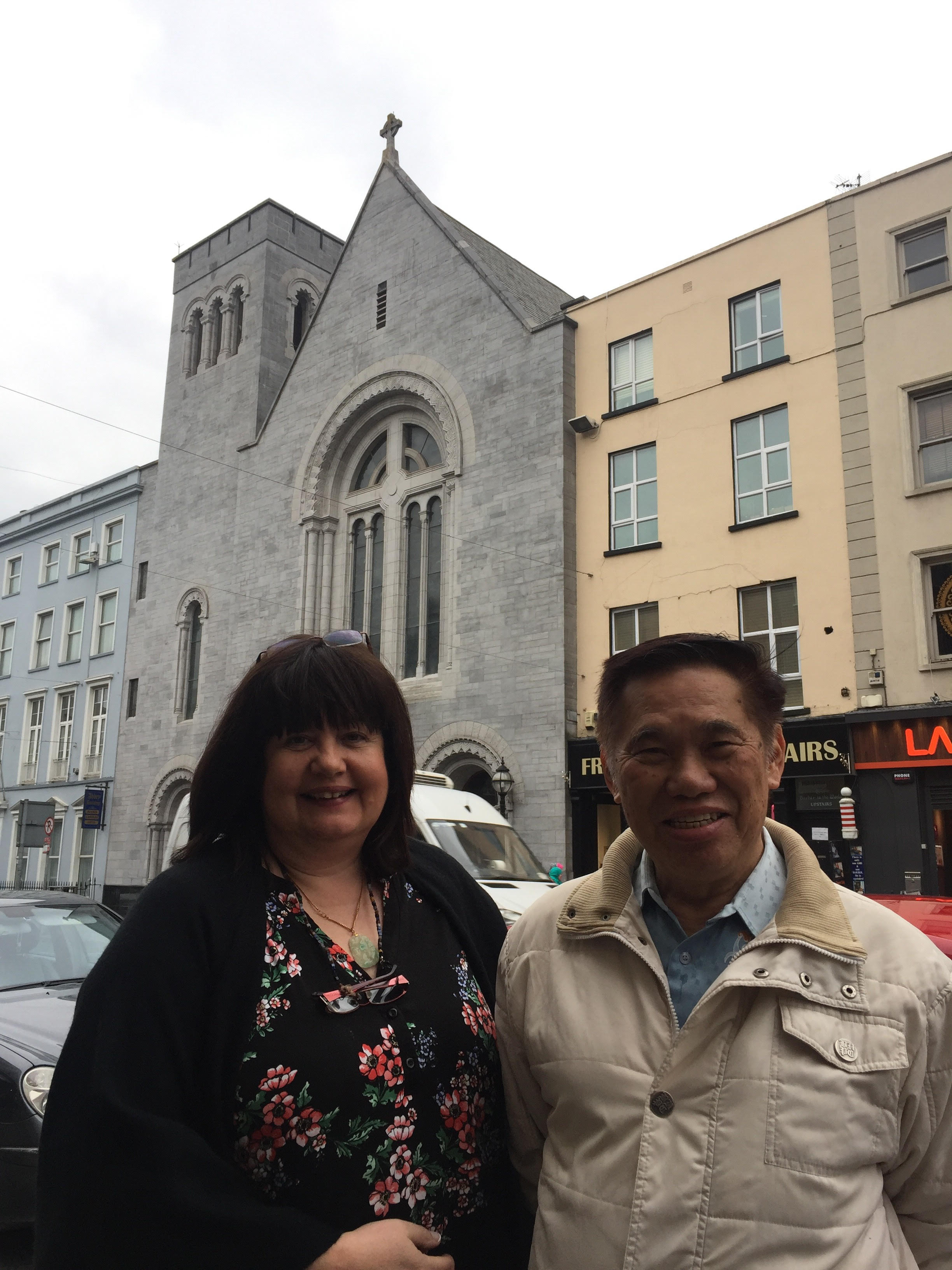 Sifu Joan Browne and Grandmaster Wong in Limerick
---
I arrived at Shannon on 22nd February 2018 and Joan, John and Maurice were at the airport to meet me. Despite the long continental flight, and the long waiting hours at Singapore and London, I was smiling and happy when meeting them. The practicing of our arts always makes us smiling and happy.
We went to Limerick, which is situated on the Shannon River, the largest river in Ireland. Joan was kind to drive me around in Limerick so that I could see again the lovely city hall with its majestic pilars. After a delicious meal, we drove to Killarney, where we were going to have some chi kung and kungfu courses, passing through beautiful Irish scenery and some little towns.
Soon we reached Adare, and I could recognize it with its Desmond Castle. We passed the town where a few years ago we stopped to have a drink at a lovely restaurant. We then passed New Castle West, which is a medieval town, and Abbeyfeale, a small market town, where we stopped for some ice-cream. We crossed the border to Kerry.
As we arrived in Killarney, we were greeted by snow capped mountains in the distance. Joan helped me to check into my favorite Brehon Hotel, where we were warmly welcomed by the hospitable staff. Killarney is a beautiful town, and I told Joan that I regarded it as one of the most beautiful I had seen in my world travels. If you haven't seen it, you must come to Killarney one day.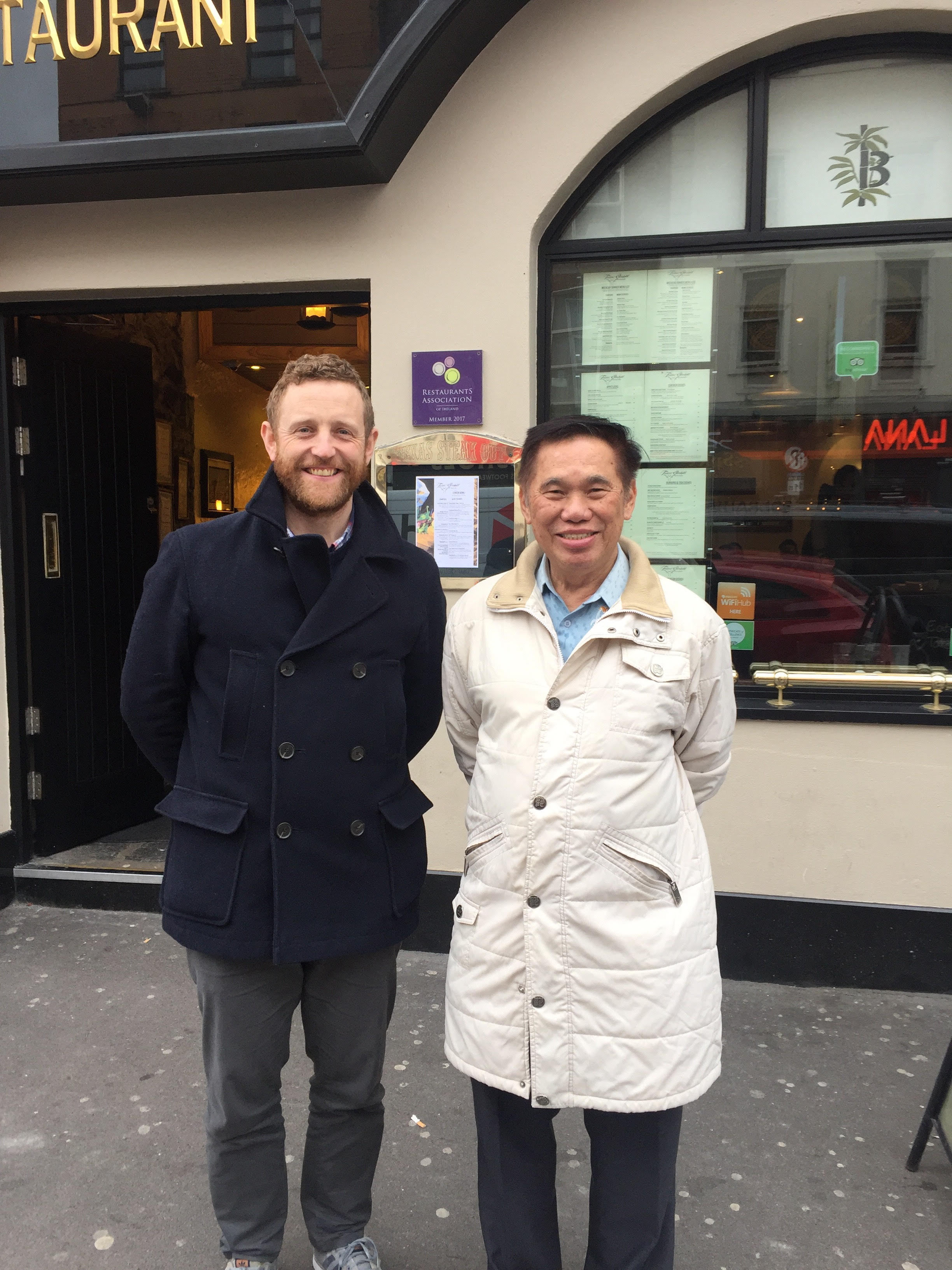 John and Grandmaster Wong in Limerick
The next day, 23rd February 2018, before the start of our chi kung course on "Generating Energy Flow" at 5.00 pm, Joan and Racheli took me on a trip to the Ring of Kerry. The Ring of Kerry is a famous tourist route in Ireland and is about 180 km long. I have been to the Ring of Kerry a few times, but of course it is wonderful to travel along the route again.
There were many routes leading to the Ring of Kerry, and we took the one leading to the Gap of Dunloe, another famous tourist spot where Joan also took me to many years ago, along the road passing the luxurious Europe Hotel where I once stayed at the courtesy of Joan, and a lovely island where I visited some years ago. We passed the junction on our left leading to the Gap of Dunloe, where when I first visited Ireland about 20 years ago Joan and I saw a beautiful, mystical white horse all dressed in ceremonial clothing, indicating the start of some auspicious happenings.
The first town on the Kerry Ring was Killorglin, famous for its Puck Fair Festival in August every year, which is a three-day festival where a male goat called Puck is hoisted on a stage and treated like royalty. We drove around the town.
Then we passed Glenbeigh, a lovely small town near the sea, Cahersiveen, a seaside market town with a beautiful church on the town's entrance, and Waterville, another seaside town. We stopped at Waterville to have a drink, and to take some photos with Charlie Chaplin, or more correctly his statue. Charlie Chaplin spent many holidays in this beautiful town on the edge of the Atlantic Ocean and a festival is held in his honour during the summer months.
Then we passed Sneem, which is another small tourist town. After going through some rolling hills and woodlands, we arrived at Kenmare, our destination, which is a lovely small town in Kerry. We had a lovely meal in a street full of restaurants and cafes. At Kenmare we could continue with the Ring of Kerry or turn to another well-known Ring of Beara.
But we took the route which led to Kilgarvan, a small village near to Joan's house. We stopped at Joan's beautiful house and examined some lovely photos on walls where I figured prominently. We left Richalli in Joan's house, and Joan drove me back to Killarney.
I wish to thank Joan for supplying the information of the travels.
Wong Kiew Kit
24th February 2018, Killarney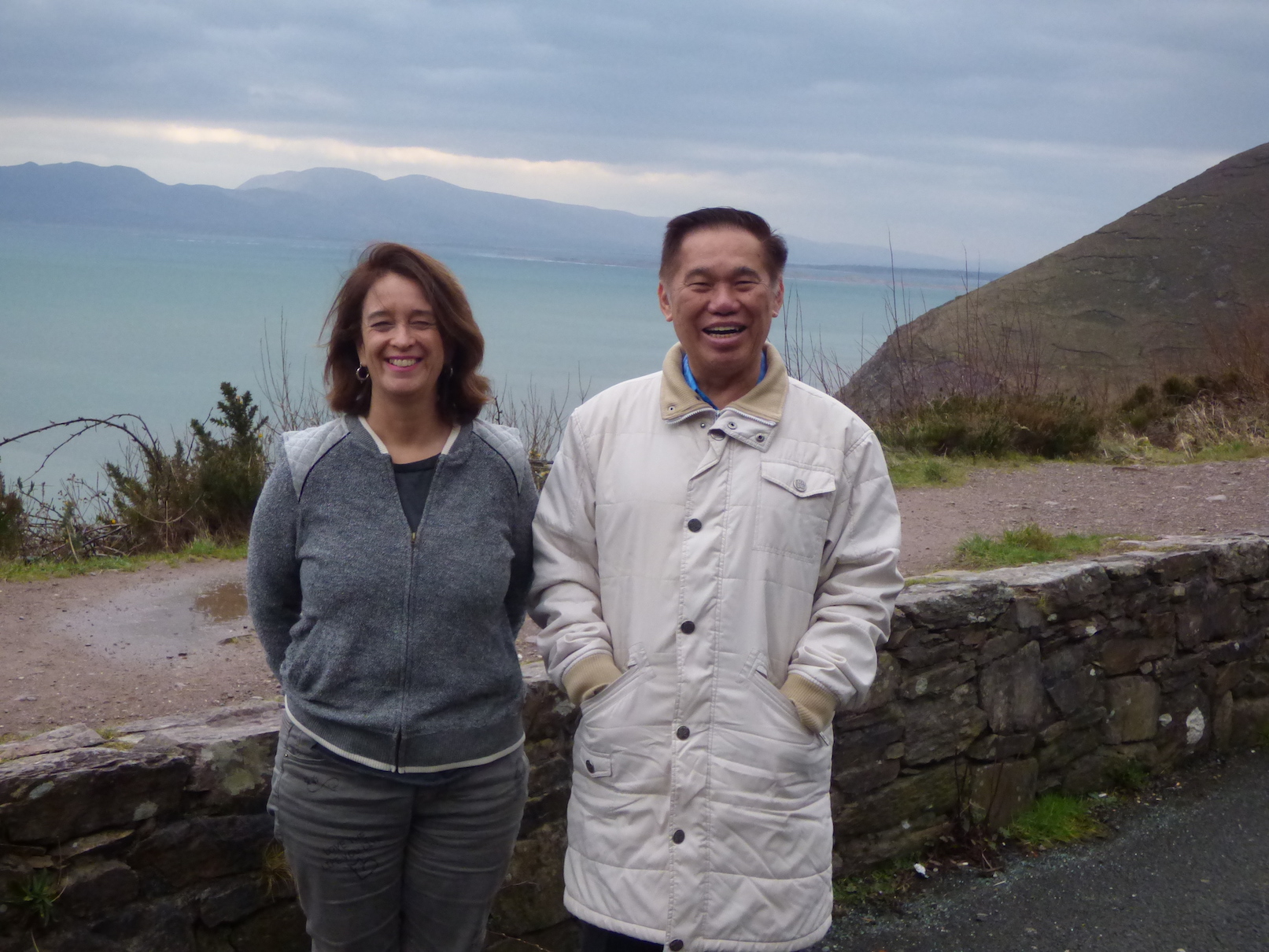 Sifu Racheli and Grandmaster Wong along the Ring of Kerry
LINKS
Video Shows in Ireland
Travels in Ireland
Courses and Classes
---
---