HIDDEN SORROW OF A WEALTHY WOMAN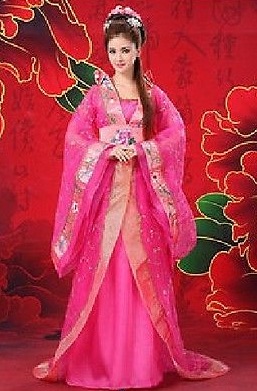 ---
---
One day there was a guest at the sundry shop. It was Madame Ma, who was the elder cousin of Madame Lau, Li Chooi Peng's mother. Madame Ma had a daughter, Wang Wei Lin, who were just a few months elder than Li Chooi Peng. They were like sisters, often playing together.
Madame Ma lost her husband when Wang Wei Lin was small. To sustain their livelihood, she washed clothing for other people. Madame Lau often helped them financially.
But that day Madame Ma was like a totally different person. She appeared as a wealthy woman, wearing an expensive dress and decked with gold and jewelry.
Madame Lau and her daughter, Li Chooi Peng, were totally surprised, but they welcomed her into the house. Madame Ma took some money and handed to Madame Lau.
"All these years, younger cousin has helped me. I dare not say I'll repay your kindness, but here is some money I hope you will accept it." After some initial refusal, Madame Lau eventually took the money.
"I was just thinking how you suddenly became a wealthy woman," Madame Lau asked.
"One morning Wei Lin was hanging some clothing to dry outside our house. A wealthy man, Leong Fa Yun, was passing bye. He saw Wei Lin and was captivated by her beauty. So he sent a match-maker to ask for her hand as his concubine."
"Isn't he the same Leong Fa Yun who owns a large silk shop in the city?" Madame Lau asked.
"That's him. Wei Lin was very lucky to have been seen by him."
After a lengthy conversation, Madame Ma departed. "You must bring Wei Lin along the next time you visit," Madame Lau said.
After Madame Ma had left, Li Chooi Peng asked her mother, "I heard that Leong Fa Yun was rather strange. Although he has a wife, he married a concubine some months ago. After a while, the concubine died."
"Don't talk non-sense," her mother reprimanded.
Not long after that, Madame Ma had another visit, this time with Wang Wei Lin. Li Chooi Peng paid particular attention to her cousin-sister. Despite being married to a wealthy family, Wang Wei Lin did not look happy. She was pale and there were worries written between her eye brows.
When Madame Ma took leave, Li Chooi Peng stepped forward, took Wang Wei Lin by her hand, and said, "Wei Lin and I haven't met for a long time. Why not let Wei Lin stay here for the night so that we can talk about our experiences?"
So Madame Ma went home by herself.
Li Chooi Peng took Wang Wei Lin to her room, brightened an old lamp and offered two pots of hot tea.
"Elder sister is now a wealthy woman. Don't soil your pretty dress in this humble room," Li Chooi Peng said.
Wang Wei Lin took off her outer dress and laid on Li Chooi Peng's bed. Li Chooi Peng sat besides her, and said.
"I haven't seen cousin-sister for a long time. Cousin-sister is now married. I am afraid that in future our chances of meeting each other would be less. I don't want to miss this opportunity tonight. I don't want to sleep. I want to chit-chat with cousin-sister."
Hearing this, Wang Wei Lin sat up and the two started to converse softly.
Li Chooi Peng said, "Now cousin-sister is married into a wealthy family. Life is certainly better than before. Whatever you eat is tasty. Whatever you drink is fragrant. By right you should have grown fatter. But as it looks, it is not so. Not only you have not grown fatter, you have become thinner. Moreover, your face is pale and white, as if you have just been a long period of sickness. I cannot think what has happened. Can cousin-sister please tell me?"
Wang Wei Lin gave a long sigh. Tears rolled down her cheeks. But she kept quiet, as if she had unlimited sorrows but could not say out.
Seeing this, Li Chooi Peng knew that Wang Wei Lin had a lot of sorrows in her heart, but she did not let them out. Li Chooi Peng held Wang Wei Lin's hand, gently touched her own face, and said.
"Cousin-sister, please don't cry. Once you cry, I feel very sad. When we are in the world, there may be unpleasant happenings. But when we attend to them, even when they are unpleasant, we can do them well. You must take care of your health. You must not hide suffering in your heart. Sufferings harm people. Your health will become worse and worse."
These words were full of good reasons, and showed Li Chooi Peng's great care. Wang Wei Lin was greatly moved. Her tears kept rolling down without stop.
"Cousin-sister, what is the matter that makes you so sorrowful?"
Wang Wei Lin just shook her head, and remained silent.
"If you don't want to say anything, let me guess. See if I can guess correctly. Is Mr Cheong, your husband, very rough, that he does not agree with your feeling?"
Wang Wei Lin shook her head.
Li Chooi Peng asked again, "A few days after marriage, is Mr Cheong likes new and abhors old, that he has found another woman?"
Wang Wei Lin continued to shake her head.
Li Chooi Pang further asked, "Is the first wife of Mr Cheong being big oppress the small, and find ways to make life difficult for you?"
Wang Wei Lin again shook her head.
"This is strange. Mr Cheong has not found another woman, is not rough and uncouth, and the first wife has not bullied you. In this case, even when a god comes to earth, he may not have guessed correctly what is wrong with you.
"But we grow up together, have been together for so many years, intimate like blood sisters; seeing you like this, I feel very uncomfortable."
Li Chooi Peng gently patted her shoulder and remarked, "Your mother has only you as her only daughter. If you have any 'long three and short two' (i.e. if you die), where can she go for support? Tell me your sorrow. Both of us will think of a way to solve it. If you are afraid that I may tell others, I can vow ….. "
Wang Wei Lin grasped Li Chooi Peng, and said, "Sister, you need not speak further. Suffering people in the world, no one is more suffering than me. I didn't born at the right time. Before two, papa died. Our family is poor. I thought that when I grew up, I would marry into a good family so that I would have half a life of happiness. But now, not only there is no happiness, it is survive a day, it is a day."
Li Chooi Peng was very surprised. Quickly she asked, "What do your words point to? Leong Fa Yun is the owner of a big silk shop. Now you are his wife, your whole body shines with pearls and precious energy (i.e. you can wear whatever gold and jewels you want). How can there is no happiness, and even your life may not be guaranteed?"
Wang Wei Lin smirked bitterly. "You are not in the known. How can you think such things can happen? If I don't experience it myself, I would not know what happened. Even if I tell you, what is the use?"
"No, sister, no. I cannot see that you jump into a pit of fire, and do not care. Tell me quickly. What actually is the matter?"
Wang Wei Lin, full of tears in her eyes, asked, "Can you beat him?"
Li Chooi Peng replied, "I don't care how terrible he is. He is still a person. As long as he is not a god, I shall not be afraid."
Wang Wei Lin explained, "Openly Leong Fa Yun is a owner of a silk shop. Secretly he is the big boss of robbers who rob rich families. All those in the silk shop, apart from the account clerk, all workers are his 'claws and teeth' (i.e. notorious gang members). In the day time, they call him owner. Behind people's back, they call him big brother. Earlier, wasn't the rich Kee family outside the city robbed and killed by robbers? This was done by them."
"How do you know all this?" Li Chooi Peng asked.
"Why don't I know! Every time they robbed, they would gather in the house. The next day there would be news of robbing. And every time they rob, I have to suffer!"
"They go out to rob others, and kill," Li Chooi Peng asked, "how does that make you suffer?"
"You don't know. For the first ten or more days after marriage, Leong Fa Yun was very courteous to me. He let me eat well, dress well, and I felt very comfortable. I thought that at last I met a good person.
"One night Leong Fa Yun and his gang had dinner. He asked me to join them. I did not suspect anything, but once I entered the room, he ordered someone to close the door. Then he offered me a cup of tea, saying that men would drink wine, but I could drink tea to replace wine.
"After drinking the tea, I found that my whole body was feeble and I could not speak. I saw their mouths moving, but I heard nothing. By then Leong Fa Yun had changed into a Taoist dress and prayed before an altar. Then he came towards me and he looked very fierce.
"He waved his hands, and two gang members came forward. One carried a bowl, and another carried a tube and a thick needle. Leong Fa Yun poked the needle into me, and drained my blood through the tube into the bowl. Then he poured my blood into a jar of wine. Each of the gang member drank the wine with my blood in it. He said this would bind the gang together. Then they left to do their business. Leong Fa Yun did not go with them."
Li Chooi Peng was very angry. She banged her hand on a table and said, "These beasts in human dresses, if I don't eliminate them, all women will suffer! Didn't Leong Fa Yun join the gang in their robbery?"
"No," replied Wang Wei Lin, "each time when they robbed and killed, Leong Fa Yun did not join the robbery. He directed the operation from behind."
After a short pause, Wang Wei Lin continued, "Then Leong Fa Yun poured some tea into my mouth. After a while, I regain normalcy. Leong Fa Yun told me that if I mentioned to anyone what had happened that night, he would kill me.
"The next day," Wang Wei Lin continued, "I learned that the wealthy Kee family was robbed by seven or eight masked robbers, and the wealthy Kee was killed. Another time they also took my blood, and the following day I heard that a big shop was robbed and some people killed. Meanwhile I have become weaker and weaker."
"Why didn't you report all this to auntie, your mother?" Li Chooi Peng asked.
"An important condition about my marriage was that my mother could not ask anything about my health. My mother, Leong Fa Yun and the match-maker put their thumbs onto the agreement."
Wong Kiew Kit
12th January 2018, Sungai Petani
LINKS
Overview
Courses and Classes