DIM MARK, OR DOTTING ENERGY POINTS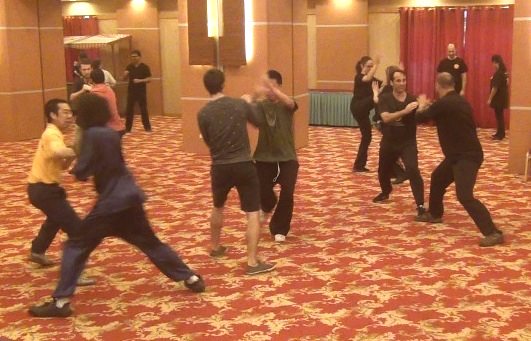 ---
---
In Fa Yun, or Flower District, of Guangdong Province there was a kungfu master called Sung Chan. He had a kungfu school and treated "thiet ta" patients, or patients suffering from falls and being hit. He was well known in the area.
("Falls and being hit" is "thiet ta" in Cantonese, or "die da" in Mandarin pronunciation. Please note that "d" in Mandarin written in Romanized Chinese, is pronounced like "t" in English. "Thiet ta" is a special branch of Chinese medicine, and is best translated as "traumatology". It was usually treated by kungfu masters, not by doctors.)
Sung Chan had a son called Sung Cheong, who was known as Black Bone Cheong. Indeed, his real name was seldom known.
Black Bone Cheong learned kungfu from his father since he was small, and had a lot of muscular strength. But he was hot tempered, so his father sent him away as an apprentice in a wine shop.
There was established another kungfu school in the district city by Mok Lou Luk, or Old Mok Six. Black Bone Cheong felt exasperated when hearing about this new kungfu school. Because of his arrogance, he did not believe there were other capable persons. He wanted to kick the foundation of this school (i.e. defeat the master of this school, resulting in the school to close).
So one day he visited this kungfu school, and was surprised to find Old Mok Six in his advanced age, thin with a hump on his back, and his face was yellowish. Old Mok Six did not look at all like a kungfu master.
Black Bone Cheong told Old Mok Six that he was the son of Sung Chan, had heard of the fame of Old Mok Six, and so he came to seek teaching.
Old Mok Six said, "I have started teaching here for less than a month, and young master said that you had heard of my fame. I don't know from where have you heard this. But your father is a well known kungfu master. His fame is already well established. Why do you sacrifice near and look for far?"
"I've heard of your name, so I've come to learn."
"Glorious people do not speak hidden words. Please tell me straight (i.e. honestly). How would you come to learn?" asked Old Mok Six.
Black Bone Cheong stood up and answered, "I want to exchange some moves with elderly master."
Old Mok Six was an old stream and lake (i.e. experienced person). He knew that Black Bone Cheong's intention was to kick his foundation. With a greeting, he answered, "Please!"
Black Bone Cheong moved forward with a punch, which Old Mok Six deflected. Then Black Bone Cheong struck out his two palms. Again Old Mok Six warded off the attack and gave the opponent a kick. The two persons exchanged a number of moves.
Eventually, Black Bone Cheong gripped Old Mok Six' pigtail, and pulled hard, causing Old Mok Six to tilt his head.
"Ha, ha," laughed Black Bone Cheong, "Elderly master Mok, even when you are skillful, what techniques would you use to escape from this predicament?"
"You better let go of your hand," the old master warned, "or else you will regret."
Black Bone Cheong thought that the old master wanted face (i.e. too proud to concede defeat). He said, "In combat, don't you use your best techniques?"
Old Mok Six turned around and used his index and middle fingers to dot on the opponent's energy point at the ribs. This art was called "dim mark", or dotting energy points. Black Bone Cheong was unprepared. He felt his body numb, and he involuntarily let go of his grip.
"Seng yeong, seng yeong (i.e. thank you for allowing me to make my moves). Young master's art is definitely not shallow."
The elderly master's words were meant for Black Bone Cheong to apologize in front of the master's students. Then he would release the blockage of energy at the energy point.
But Black Bone Cheong was too proud. He did not want to lower his head (i.e. to be humble) in front of other people. Without saying another word, he ran out of the kungfu school.
When he returned home, he told the happening to his father. Sung Chan was both angry and apprehensive. He was angry that his son was useless, and could not do big things. He was apprehensive because he did not know how to release energy blockage at energy points, and thus was unable to overcome his son's injury. To beg Old Mok Six to release the energy blockage might damage his reputation.
He could only prescribed some medicated powder to clear blood blockage and generate blood flow for his son, but it could not clear energy blockage. After a few days, not only his son was not cured, his injury became more serious.
Wong Kiew Kit
16th January 2018, Sungai Petani
LINKS
Overview
Courses and Classes