OVERCOMING PAIN AND IMPROVING SPORTS AND MENTAL CLARITY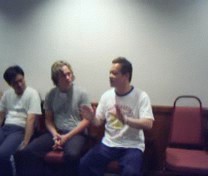 Overcoming Pain and Improving Sports and Mental Clarity
Dr Foong, a managing director of a large consultancy, reports that chi kung practice has helped him to overcome his shoulder pain sustained from his playing tennis. Sifu Wong then explains that many practitioners have found their performance in their sports and games have improved despite their stop playing for some time due to their chi kung training. Sifu Wong next asks Dr Foong whether his mental clarity has improved too, and Dr Foong concurs.
The size of the video clip is 3.71 MB.
Click here to download.
---
You can also view the video by clicking on the picture or the caption below

Overcoming Pain and Improving Sports and Mental Clarity from Wong Kiew Kit on Vimeo.
LINKS
Overview
Courses and Classes