DIFFERENT TYPES OF CHI FLOW FROM THE SAME EXERCISE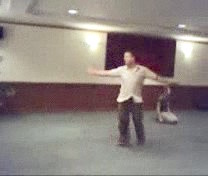 Different Types of Chi Flow from the Same Exercise
Course participants move in various manners during a chi flow induced by performing "Lifting the Sky". Simon is spinning round and round joyfully. One participant attempts a head-stand while another is coughing, which is a good way to clear toxic waste in the chest. Some enjoy chi massaging their internal organs, while others let chi work on their muscular and bone problems.
The size of the video clip is 3.59 MB.
Click here to download.
---
You can also view the video by clicking on the picture or the caption below

Different Types of Chi Flow from the Same Exercise from Wong Kiew Kit on Vimeo.
LINKS
Overview
Courses and Classes