GROUND WORK — LAZY MONKEY WATCHING THE SKY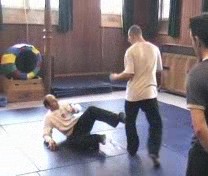 Ground Work — Lazy Monkey Watching Sky
Sifu Kai Uwe of Shaolin Wahnam Germany, who is also an expert in ground fighting, demonstrates some effective groundwork in Shaolin Kungfu to keep an opponent at bay. This Shaolin pattern is known as "Lazy Monkey Watching the Sky". The video was taken impromptu during a Warrior Project training session.
The size of the video clip is 3090 KB.
Click here to download.
---
Please click the picture below or click the caption to view the video
LINKS
Courses and Classes