DRAGON HAND AGAINST MUAY THAI FIGHTERS (PART 1)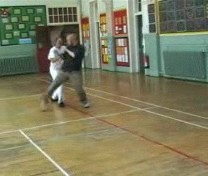 Using "Dragon Hand" against Muay Thai Fighters (Part 1)
Muay Thai looks simple but is actually a tricky and sophisticated fighting art. Unlike a Karate or a Taekwondo exponent whose attacks are usually "real", a Muay Thai fighter's attacks may be "real" or "feign", and he often surprises you with a fast kick when you are confused by his hand attacks.
An effective counter is to use the "Dragon Hand" in conjunction with good footwork and swerving bodywork. When you are competent in using this technique, you may use the tactic by "tempting an opponent's attack to futility" by pretending to fight like him or like a boxer, then when he least expects it, use your "Dragon Hand" and agile footwork to defeat him.
---
You can also view the video by clicking on the picture or the caption below

Dragon Hand against Miau Thai Fighters -- Part 1 from Wong Kiew Kit on Vimeo.
LINKS
Courses and Classes