REACTING TO ATTACKS FROM DIFFERENT DIRECTIONS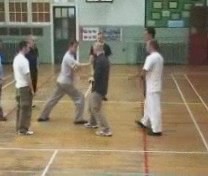 Reacting to Attacks from Different Direction
This is a continuation of a previous video showing how to sense and face possible multiple attacks. Now the attackers move in. Using suitable footwork, a kungfu exponent can move agilely to respond to attacks coming from different directions.
The size of the video clip is 2571 KB.
Click
here
to download.
---
You can also view the video by clicking on the picture or the caption below

Reacting to Attacks from Different Directions from Wong Kiew Kit on Vimeo.
LINKS
Courses and Classes