TAIJIQUAN COMBAT SEQUENCE 2 - PUNCH BELOW SLEEVES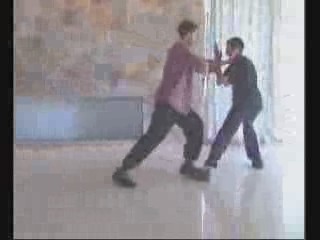 In this second Combat Sequence, Jeffrey attacks with a palm thrust to the opponent's throat. Javier deflects the attack and counters with a left palm thrust.
Jeffrey deflects the attack and counters with a middle punch. Javier "sinks" Jeffrey both arms and is about to grip them, but Jeffrey neutralizes with a circular movement, followed immediately with a left palm attack using the Taijiquan pattern "Lazy to Roll up Sleeves", simultaneously moving his back left leg forward.
All the movements in these combat sequences are pre-arranged. Will students be able to fight if they train in pre-arranged sequences? The purpose here is not to fight freely yet, but to develop suitable skills and techniques which prepare practitioners for free sparring and actual fighting later on.
---
You can view all the videos above by clicking the picture or caption below

Taijiquan Combat Sequence 2 -- Punch Below Sleeves from Wong Kiew Kit on Vimeo.
LINKS
Overview
Old Version of Taijiquan Twelve Combat Sequences
Revised Version of Taijiquan Twelve Combat Sequences
Courses and Classes