TAIJIQUAN COMBAT SEQUENCE 4 — GOLDEN DRAGON SHOOTS PEARL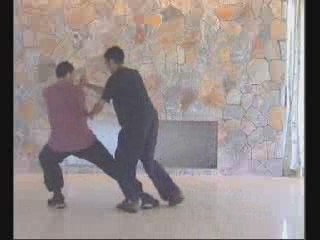 Jeffrey initiates with "White Snake Shoots Venom". After brushing away Jeffrey's palm thrust, Javier responds with "Green Dragon Shoots Pearl", changing from right Bow-Arrow to left Bow-Arrow to press into the opponent.
Jeffrey has to sink back low to neutralize the pressing attack, then presses back with "peng" or "Immortal Wave Sleeves". Javier returns to his right Bow-Arrow and strikes with "Lazy to roll up Sleeves".
Besides getting the techniques right, students must ensure that they are relaxed and their movements are fluid yet powerful, not staccato and muscular, otherwise it would not be Taijiquan. Such combat sequence training enables students to develop appropriate Taijiquan skills and techniques so that they can spontaneously apply them in actual combat situations.
---
You can view all the videos above by clicking the picture or caption below

Taijiquan Combat Sequence 4 -- Golden Dragon Shoots Pearl from Wong Kiew Kit on Vimeo.
LINKS
Overview
Old Version of Taijiquan Twelve Combat Sequences
Revised Version of Taijiquan Twelve Combat Sequences
Courses and Classes