THE SPIRIT OF THE MONKEY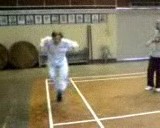 The Spirit of the Monkey
The Monkey has a special significance in Shaolin Wahnam. Sifu Wong's teacher, Sigung Ho Fatt Nam, specializes in the Shaolin Monkey Set. Besides other characteristics like agility, trickiness and internal force, the Monkey is also noted for its cheerfulness and inquisitiveness. In this video clip, Sifu Wong shows Chris how to manifest these two characteristics of the Monkey.
---
Please click the picture below or click the caption to view the video

The Spirit of the Monkey from Wong Kiew Kit on Vimeo.
LINKS
Courses and Classes