PATTERN PRACTICE -- HAPPY BIRD HOPS UP BRANCH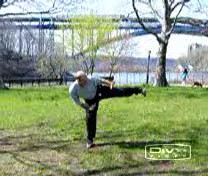 Pattern Practice — Happy Bird Hops Up Branch
Many kungfu students spend much time only performing kungfu sets, usually as a demonstrative form, forgetting that the basic unit of kungfu is a pattern, and not a set. A kungfu pattern is the crystallization of a particular way of movement to fulfill certain combative functions that was used in actual fighting.
Practicing just one pattern, or a short combination of patterns, over and over to master it, is an important aspect of kungfu training. Here, Sifu Anthony Korahais practices "Happy Bird Hops up Branch" and "Reverse Hanging of Golden Lotus" many, many times to develop accuracy of form, force and speed.
The size of the video clip is 1067 KB.
Click here to download.
LINKS
Courses and Classes