IMPORTANT SKILLS IN COMBAT SEQUENCES 3 AND 4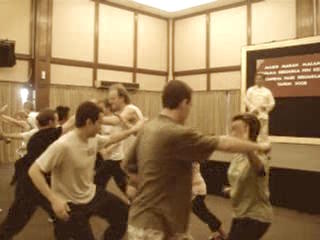 ---
Here course participants practice Combat Sequences 3 and 4. Two important skills are introduced in Combat Sequence 3, namely footwork adjustment to attain right spacing, and adequate coverage to ensure safety first. The skills of continuous attack and flowing into an opponent are found in Combat Sequence 4.
---
Please click the pictures or the captions below to view the videos
---
You can view all the above video clips by clicking the picture or the caption
Important Skills in Combat Sequences 3 and 4 from Wong Kiew Kit on Vimeo.
LINKS
Overview
Courses and Classes