APPLYING CONTINUATION OF SEQUENCE IN SPARRING PRACTICE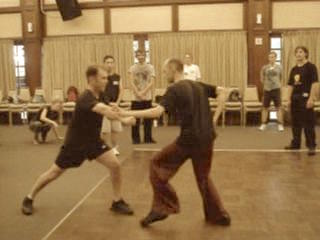 ---
After pre-choice and self-choice, the next step in our sparring methodology is continuation. Here, the initiator or the responder continues to another combat sequence after completing the first combat sequence. Some footwork adjustment is needed. More importantly, you must cover your opponent adequately as you continue to another sequence. In our revised terminology (the methodology is the same but we use different terms to describe the stages) this is addition, i.e. adding a new sequence.
---
Please click the pictures or the captions below to view the videos
---
You can view all the above video clips by clicking the picture or the caption
Applying Continuation of Sequences in Sparring Practice from Wong Kiew Kit on Vimeo.
LINKS
Overview
Courses and Classes