COMBAT SEQUENCE 7: CHOP THE HUA MOUNTAIN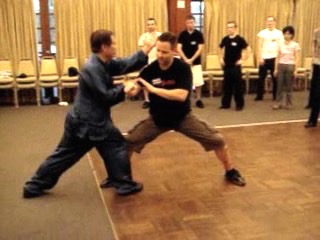 ---
"Bar the Big Boss" is introduced here against an opponent's attack instead of using "Single Tiger". In Combat Sequence 6, you execute a chopping attack after avoiding your opponent's sweep on your low punch. Here in Combat Sequence 7, you execute a chopping attack after you sweep an opponent's low punch. A skillful application of "Double Bows Tame Tiger" often strikes an opponent before he realizes it.
---
Please click the pictures or the captions below to view the videos
---
You can view all the above video clips by clicking the picture or the caption
Combat Sequence 7 -- Chop the Hua Mountain from Wong Kiew Kit on Vimeo.
LINKS
Overview
Courses and Classes