COMBAT SEQUENCE 8: HORIZONTALLY SWEEP A THOUSAND ARMIES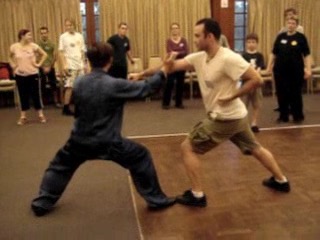 ---
A number of sophisticated techniques are found in his short sequence. For example, you can break your opponent's arm as soon as he attacks. Do you know that there are three such examples here? On the other hand, if an opponent attempts to break your arm as you attack, as in the third example of the hand sweep, you can apply the tactic of "leaking hand" to strike his head.
---
Please click the pictures or the captions below to view the videos
---
You can view all the above video clips by clicking the picture or the caption
Combat Sequence 8 -- Horizontally Sweep a Thousand Armies from Wong Kiew Kit on Vimeo.
LINKS
Overview
Courses and Classes