OVERCOMING TWO BIG PROBLEMS IN FREE SPARRING AND REAL FIGHTING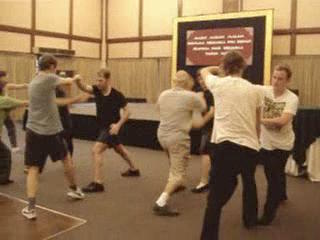 ---
Kungfu exponents today all over the world, including some masters, face two big problems in free sparring or real fighting. One, they cannot effectively use their kungfu patterns to attack. Two, they cannot respond correctly and spontaneously with their kungfu patterns in defence. We are happy and proud to have overcome these two problems using our sparring methodology. The video series here shows course participants using Sequences 1 to 8 in their sparring practice. The key approach here is continuation with subtraction.
---
Please click the pictures or the captions below to view the videos
---
You can view all the above video clips by clicking the picture or the caption
Overcoming Two Big Problems in Free Sparring and Real Fighting from Wong Kiew Kit on Vimeo.
LINKS
Overview
Courses and Classes