COUNTERING SURPRISED KICKS AND THROWS WHILE APPLYING COMBAT SEQUENCES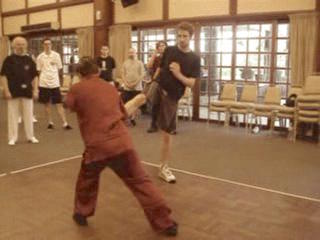 ---
You can use modifications in combat sequences against an opponent who applies kicks or throws. If your opponent surprises you with a kick, for example, as you move in with your planned sequence, retreat stance and simultaneously strike his kicking leg. If he attempts to fell you, move your stance or change your step. Various throwing techniques are illustrated.
---
Please click the pictures or the captions below to view the videos
---
You can view all the above video clips by clicking the picture or the caption
Countering Surprised Kicks and Throws While Applying Combat Sequences from Wong Kiew Kit on Vimeo.
LINKS
Overview
Courses and Classes