COMBAT SEQUENCE 10: HEART-PIERCING THRUST KICK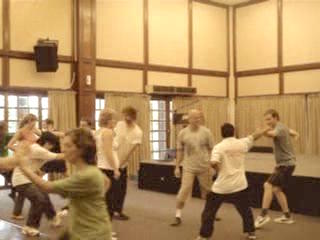 ---
Our combat sequences are supportive of one another. If you lay a trap with Combat Sequence 9 to tempt your opponent to attack so that you can counter with a side-body Tiger-Tail Kick but he hesitates, you can spontaneously continue with Sequence 10 using a heart-piercing thrust kick. This sequence, with four attacks in a row, is excellent for implementing the tactic of pressing attack. You must, of course, ensure sufficient coverage as you press in to attack.
---
Please click the pictures or the captions below to view the videos
---
You can view all the above video clips by clicking the picture or the caption
Combat Sequence 10 -- Heart-Piercing Thrust Kick from Wong Kiew Kit on Vimeo.
LINKS
Overview
Courses and Classes