COMBAT SEQUENCE 12: FORMIDABLE WHIRLWIND KICK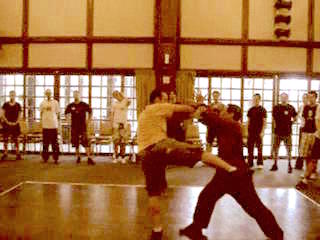 ---
Many people are weary of the Muay Thai sweeping kick. It is fast and powerful, and not many people know how to defend against it. Blocking the sweeping kick, as is often shown in martial art movies, is not a good defence; it may result in the blocking arm or hand being fractured.
In Shaolin Kungfu this sweeping kick is known as a Whirlwind Kick. A good way to defend against a whirlwind kick is to intercept it with your elbow at the opponent's knee. Good timing and spacing is needed. There is, however, an innate weakness: your head may be too close to the opponent's attack. A "soft" counter that eliminates this weakness is to avoid the whirlwind kick by leaning your body back without moving your legs.
---
Please click the pictures or the captions below to view the videos
---
You can view all the above video clips by clicking the picture or the caption
Combat Sequence 12 -- Formidable Whirlwind Kick from Wong Kiew Kit on Vimeo.
LINKS
Overview
Courses and Classes