COMBAT SEQUENCES 15 AND 16: HOE FIELD AND PUSH MOUNTAIN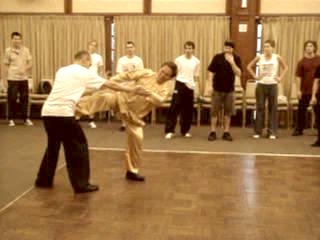 ---
Two combat sequences, 15 and 16, are shown here. In Combat Sequence 15, "Farmer Hoes Rice Field", you must be close to your opponent with your back in contact with the front part of his body to have good anchorage for the over-shoulder throw. But to avoid the possibility of breaking his spine, throw him across your waist. Break his elbow just before the throw.
Right spacing is necessary for Combat Sequence 16, "Fierce Tiger Pushes Mountain". Your front leg must go in between his two legs as you push. Make sure you cover your opponent adequately so that he can not strike you. Pushing him away is being compassionate. You may strike him instead.
---
Please click the pictures or the captions below to view the videos
---
You can view all the above video clips by clicking the picture or the caption
Combat Sequences 15 and 16 -- Hoe Fields and Push Mountain from Wong Kiew Kit on Vimeo.
LINKS
Overview
Courses and Classes