MANY EFFECTIVE TECHNIQUES AGAINST BOXERS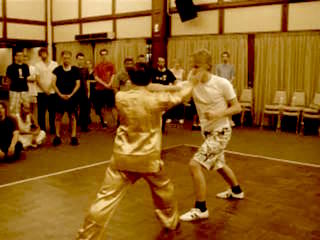 ---
There are many Shaolin techniques against Boxing. Here we give him a fighting chance and let him have some fun. We use techniques that a Boxer has counters in his repertoire. Two tactics are employed here, "Cover and Strike" and "Open and Strike". Notice that good stances and body movement give us great advantages. If we do not give Boxers a fighting chance, we use techniques outside his repertoire, like kicks and felling techniques.
---
Please click the pictures or the captions below to view the videos
---
You can view all the above video clips by clicking the picture or the caption
Many Effective Shaolin Techniques against Boxers from Wong Kiew Kit on Vimeo.
LINKS
Overview
Courses and Classes