PLANT WILLOW TO COUNTER FORMIDABLE MUAY THAI KNEE JABS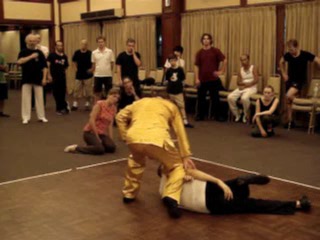 ---
Fighting a Muay Thai fighter is not easy. It is not the same as fighting a Kick-Boxer. His sweeping kicks are generally faster and his elbow strikes more powerful. The typical Muay Thai knee strike is formidable, and many people do not know how to counter it. But we are very lucky -- we have an excellent counter passed on to us from Sigung or Sitaigung Ho Fatt Nam, who himself was a Muay Thai champion before he gave it up for Shaolin Kungfu. The counter is "Plant Willow in Front of Camp". This video series also show the conclusion of this Review Course, where course participants have fun, chi flow and standing meditation.
---
Please click the pictures or the captions below to view the videos
---
You can view all the above video clips by clicking the picture or the caption
Planting Willow to Counter Formidable Muay Thai Knee Jabs from Wong Kiew Kit on Vimeo.
LINKS
Overview
Courses and Classes