PATTERN NAMES OF TAIJI STAFF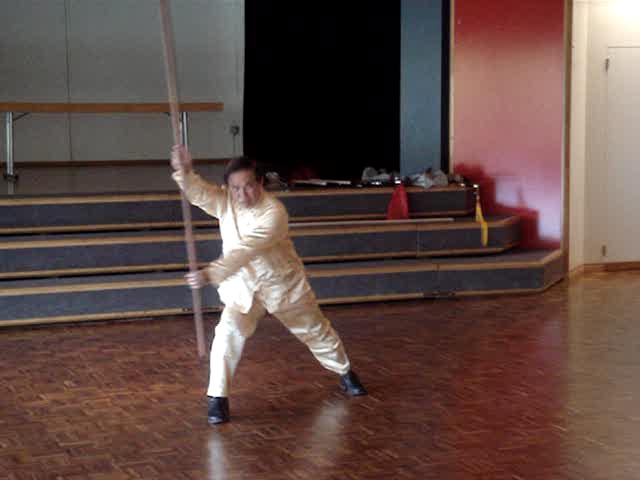 Like other Taiji weapons, the Taiji staff is derived from the Shaolin staff. In the Shaolin staff, there are staff sets with the left-hand as the front-holding hand where the staff is used like a spear, like the Flowing Water Staff, and also there are sets with the right-hand as front-holding where staff techniques are more prominent, like the Ng Long Pat Kua Staff.
The Taiji Staff here has the right-hand as front-holding. This is in line with the background of kungfu history. In earlier times, spears were commonly used, but in later times staffs were more popular. Taijiquan developed much later than Shaolin Kungfu.
Sequence 1
| | |
| --- | --- |
| | |
| 1 Single Chop Hua Mountain | 2 Spiritual Dragon Circles Clouds |
| | |
| 3 Yellow Dragon Emerges from Cave | 4 Green Dragon Churns Water |
| | |
| 5 Yellow Dragon Emerges from Cave | 6 Single Chop Hua Mountain |
| | |
| 7 Yellow Dragon Emerges from Cave | 8 Return Horse Thrust Spear |
| | |
| 9 Horizontally Sweep Thousand Armies | 10 Yellow Dragon Emerges from Cave |
Sequence 2
| | |
| --- | --- |
| | |
| 11 Lock Iron Gate (1) | 12 Lock Iron Gate (2) |
| | |
| 13 Horizontally Sweep Thousand Armies | 14 Green Dragon Wags Tail |
| | |
| 15 Green Dragon Exhibits Tail | 16 Single Chop Hua Mountain |
| | |
| 17 Phoenix Dots Head | 18 Fierce Tiger Crouches on Ground |
| | |
| --- | --- |
| | |
| 19 Jade Belt Around Waist | 20 Horizontally Sweep Thousand Armies |
| | |
| 21 Shark Monk Flicks Spear | 22 Phoenix Looks at Sun |
| | |
| 23 Golden Beam Supports Sea | 24 Tame Tiger Listen to Wind |
| | |
| 25 Phoenix Looks at Sun | 26 Lying Dragon Looks at Moon |
Sequence 3
| | |
| --- | --- |
| | |
| 27 Spiritual Dragon Circles Clouds | 28 Phoenix Looks at Sun |
| | |
| 29 Lying Dragon Looks at Moon | 30 Green Dragon Churns Water |
| | |
| 31 Phoenix Looks at Sun | 32 Single Chop Hua Mountain |
| | |
| 33 Green Dragon Wags Tail | 34 Green Dragon Exhibits Tail |
| | |
| 35 Poisonous Snake Basks in Mist | 36 Shark Monk Flicks Spear |
| | |
| 37 Phoenix Looks at Sun | 38 Wind Churns Scattered Clouds |
| | |
| 39 Phoenix Looks at Sun | 40 Green Dragon Shoots Pearl |
Sequence 4
| | |
| --- | --- |
| | |
| 41 Whirlwind Sweeps Leaves (1) | 42 Whirlwind Sweeps Leaves (2) |
| | |
| 43 Horizontally Sweep Thousand Armies | 44 Phoenix Looks at Sun |
| | |
| 45 Return Horse Thrust Spear | 46 Cultivator Asks Way |
| | |
| 47 Snow Flakes On Top | 48 Chi to Dan Tian |
LINKS
Video of Taiji Staff
Combat Application of Taiji Staff
Courses and Classes