KUNGFU, ARMED OR UNARMED, IS ALIVE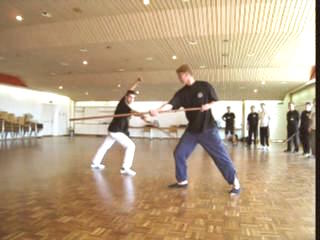 ---
Kungfu, armed or unarmed, is alive; we should not limit ourselves to rigidity. If a pattern is performed in a Single-Leg Stance in a set, for example, it does not mean that we must always use it in that stance. If the situation warrants it, we may perform the same pattern in a different stance, as in the pattern "Night Guard Tests Sea" performed here in a Bow-Arrow Stance whereas it appears in the Sword set in a Single-Leg Stance. Sometimes a different name is used when the stance changes, especially when this happens often; sometimes the same name is retained.
The pattern "Jade Belt Circles Waist" is a horizontal sweep against an opponent's waist. But it can also be used against other parts of an opponent's body, as well as a slicing instead of a sweeping attack.
---
Please click the pictures or the captions below to view the videos
Kungfu, Armed or Unarmed, is Alive
---
You can view all the above video clips by clicking the picture or the caption below

Kungfu, Armed or Unarmed, is Alive from Wong Kiew Kit on Vimeo.
LINKS
Overview of Traveling Dragon Sword and its Application
Courses and Classes