GREAT SKILLS AND TECHNIQUES ARE NEEDED IN USING A SWORD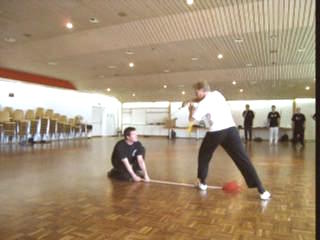 ---
If you are big and strong and defeat a small-sized opponent, it is due to your physical strength and is nothing spectacular. But if you are small-sized, and you defeat a big, strong opponent, it is due to your skillful use of sophisticated techniques.
Similarly, if you use a dainty weapon like a sword, you need great skills and techniques to defeat opponents using long, heavy weapons. Here, course participants use the sword to defeat opponents using a Samurai sword, a staff and a Guan Dao which are physically stronger.
---
Please click the pictures or the captions below to view the videos
Great Skills and Techniques are Needed in Using a Sword
---
You can view all the above video clips by clicking the picture or the caption below

Great Skills and Techniques in Using a Sword from Wong Kiew Kit on Vimeo.
LINKS
Overview of Traveling Dragon Sword and its Application
Courses and Classes