THE SWORD IS AS BEAUTIFUL TO WATCH AS IT IS COMBAT EFFECTIVE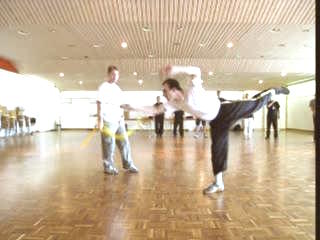 ---
Do you know how these patterns are used in combat: "Green Dragon Plays with Water", "Traveling Dragon Rolls Clouds", "Dragonfly Dots Water", and "Reverse Hanging of Purple Bell"? They are as beautiful to watch as they are combat effective.
Before the course, most of the course participants had no idea of their combat functions. But towards the end of the course, they come out with very sophisticated applications. This training also enables them to understand combat applications of patterns they see for the first time.
---
Please click the pictures or the captions below to view the videos
They are as Beautiful to Watch as they are Combat Effective
---
You can view all the above video clips by clicking the picture or the caption below

The Sword is as Beautiful to Watch as it is Combat Effective from Wong Kiew Kit on Vimeo.
LINKS
Overview of Traveling Dragon Sword and its Application
Courses and Classes