THE IMPORTANCE OF AVOIDING THE OPPONENT'S STRENGTH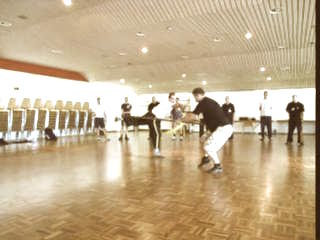 ---
Sifu Ronny and Sifu Roland work out some effective ways in applying a sword against a staff. An important principle is to avoid the opponent's strength. Applying this principle they work out many effective techniques to counter attacks from a staff.
---
Please click the pictures or the captions below to view the videos
The Importance of Avoiding the Opponent' Strength
---
You can view all the above video clips by clicking the picture or the caption below

Importance of Avoiding Opponents' Strength when Using a Sword from Wong Kiew Kit on Vimeo.
LINKS
Overview of Traveling Dragon Sword and its Application
Courses and Classes