HOW TO EXECUTE THE SIGNATURE SWORD TECHNIQUE CORRECTLY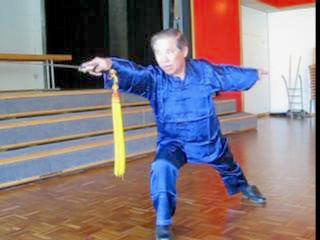 ---
How to handle a sword correctly is explained, including holding the sword-finger. The signature sword technique, the sword thrust, is demonstrated, paying attention to waist rotation and channeling spiral force to the tip of the sword. This pattern is called "Green Dragon Shoots Pearl".
---
Please click the pictures below to view the videos
How to Execute the Signature Sword Technique Correctly
---
You can view all the above video clips by clicking the picture or the caption below

How to Execute Signature Sword Techniques Correctly from Wong Kiew Kit on Vimeo.
LINKS
Overview of Traveling Dragon Sword and its Application
Courses and Classes