SENSING WITH THE MIND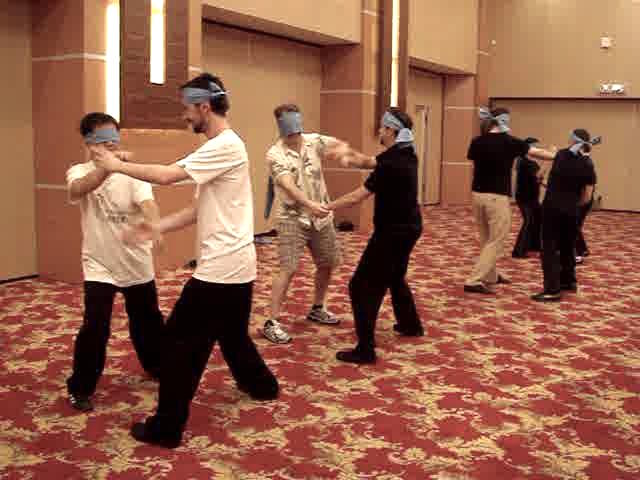 ---
Grandmaster Wong enters the class and tells the course participants that they are going to have some fun. He gives each a piece of cloth and asks them to actice chi sau while being pblind-fold ed. First, only one of the partners is blind-folded, then both of them are. At first they feel awkward. But as they progress gradually and sysetmatcly, they find that doing chi sau blind-folded is not only possible but also a lot of fun.
Some even report that eventually they find it easier to deflect opponents' attacks while being blind-folded than when looking at them. This is because while being blind-folded and not distracted by sights, they become more focussed on their sensing skills.
What happens if their opponents' disengage from sticking hands? Some find that it isn't a problem. Grandmaster Wong has also taught them to sense with their mind. Hence they have developed non-contact sensing skills. It is amazing how cost-effective systematic training can be. The course participants learn in just a few hours skills that many would think impossible.
---
You can also view all the videos here
Sensing with the Mind
---
You can also view all the videos here
LINKS
Overview
Courses and Classes