GLIMPSES OF WING CHOON KUNGFU ON BLUE MOUNTAIN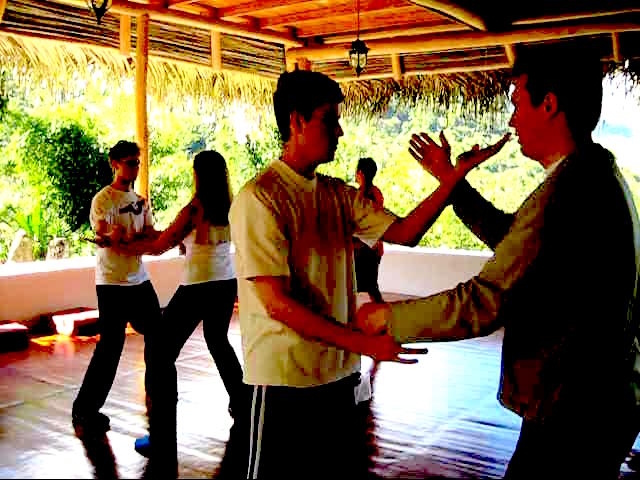 ---
An outstanding feature of the course was using "Siu Lin Tou" to develop internal force, a secretive skill normally taught to inner-chamber disciples. Shaolin Wahnam students had a distinct advantage here because they already knew chi flow, which formed an essential part of the "flow method" employed in this force-training methodology.
Students practiced "chi Sau" ("sticking hands") and combat applications using "Sap Luk Sau" ("Sixteen Hands"), "Sap Ye Thaik" ("Twelve Kicks") and "Thiet Chiet Na" ("Felling-Knee-Grip"), which were composed for this purpose. Students then had a lot of fun using Wing Choon patterns against other martial arts, like Boxing, Kick-Boxing, Wrestling and Muay Thai.
We wish to thank Sifu Anthony Korahais for reviewing the instructional material with the students, Sifu Rama and his Blue Mountain team for the memorable hospitality, and Eli for recording the videos.
8thth March 2011, Blue Mountain, Costa Rica.
---
You can view the videos here
Chi Sau (Sticking Hands)
Sap Luk Sau (Sixteen Hands)
The Flow Method
---
You can view the videos here
Mobile Chi Sau
Thrust Kicks
Side Kicks
Sweeping Kicks
Phee Chee (Thrusting Fingers)
---
Videos of Wing Choon on Blue Mountain
Some Tricky Patterns
Thiet-Chiet-Na (Felling-Knee-Grip)
Overcoming Pin-Downs
Overcoming Shoots
---
Videos of Wing Choon on Blue Mountain
Against Boxing
Against Kick-Boxing and Taekwondo
Felling Opponents
Against Muay Thai
Conters at Various Points
---
Videos of Wing Choon on Blue Mountain
LINKS
Wing Choon Chi Sau Sets
Course Review
Courses and Classes