ELEVATION OF SPIRIT AND FEELING OF PEACE FROM COSMIC SHOWER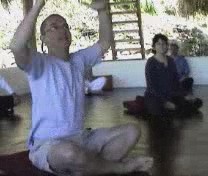 Elevation of Spirit and Feeling of Peace From Cosmic Shower
After a training session of the chi kung course "Cosmic Shower" on the Blue Mountain in Costa Rica in February 2005, Sifu Wong asked course participants for questions and comments.
Dr Juan, a heart surgeon from Colombia, described the marvelous experience of his spirit being elevated. Dr Sandra, who is a specialist in an emergency ward and also a medical researcher in the US, described a deep sense of peace.
"Cosmic Shower" is a powerful chi kung exercise that clears physical, emotional, mental and spiritual blockages, enabling the practitioners to approach their full potential in health, vitality, longevity and spiritual joy.
---
You can view the video by clicking on the picture of the caption below

Elevation of Spirit and Feeling of Peace from Wong Kiew Kit on Vimeo.
LINKS
Courses and Classes