GLIMPSE OF TAIJIQUAN ON THE BLUE MOUNTAIN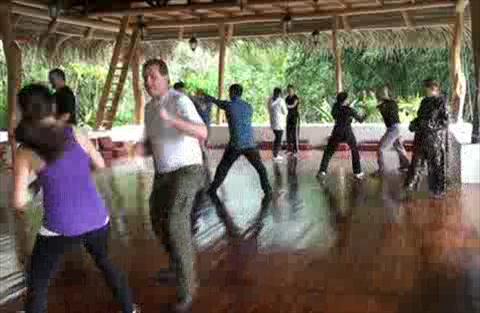 ---
Grandmaster Wong would like to congratulate all course participants. Although it was a regional course, it was both comprehensive and intensive, ranging from basic to advanced levels.
And as it is common in Shaolin Wahnam courses, course participants ranged from fresh beginners who had just taken a preliminary course with Sifu Simon just a few days earlier. to masters like Sifu Anthony Korahais and Sifu Jeffrey Segal who are respectively the Chief Instructor of Shaolin Wahnam USA and of Australia. As Grandmaster Wong has often mentioned, beginners benefited a lot from the presence of these advanced practitioners, but interestingly it was the advanced practitioners who benefited the most.
Only a glimpse of the course is shown here. Course participants are requested to contact Sifu Rama Roberto for a private access to all the videos.
We wish to thank Sifu Jeffrey Segal for recording the videos.
Please note: you can download the video clips onto your own computer and view them at your leisure. Place your computer pointer at the picture or one of the links, and right click. Choose "Save Target As". Select the directory or sub-directory where you wish to keep the video clip. Click "Save".
28th March 2012.
Videos of Taijiquan on the Blue Mountain
Stance and Footwork
Basic Patterns
Cloud Hands
Green Dragon Shoots Pearl
Pushing Hands - Stationary
Pushing Hands - Mobile
Combat Sequence 1
Combat Sequence 2
Combat Sequence 3
Combat Sequence 4
Against Pin-Down
Against Boxers
Against Kick-Boxers
LINKS
Videos of Taijiquan on the Blue Mountain
Course Review
Courses and Classes