A TASTE OF BAGUAZHANG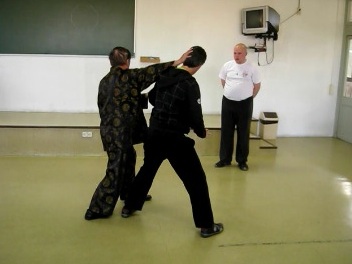 ---
Baguazhang is as beautiful to watch as it is combat efficient. Contrary to what is popularly believed that Baguazhang consists only of palm strikes, Baguazhang is a complete, sophisticated martial art with all the four categories of attack, namely striking, kicking, felling and chin-na.
Those who attended the "A Taste of Baguazhang" course on 22 May 2013 at Barcelona, please contact Sifu Adalia Iglesias for a secret username and password to access the complete set of videos.
---
Please Note: You can download the video clips onto your own computer and view them at your leisure. Place your computer pointer at the picture or one of the links, and right click. Choose "Save Target As". Select the directory or sub-directory where you wish to keep the video clip. Click "Save".
28th May 2013, Penang.
---
You can view all the videos here
Stance Training and Footwork
---
Stance Training and Footwork of Baguazhang
Eight Mother-Palms
---
Eight Mother Palms of Baguazhang
Combat Applications
---
Eight Combat Sequences of Baguazhang
LINKS
Video Overview
Baguazhang Review
Course Reviews
Courses and Classes