SHAOLIN THROUGH-CLOUD UMBRELLA SET
Picture Series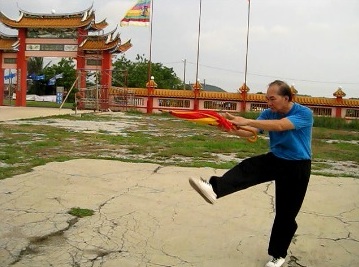 ---
---
Since an umbrella is a tool easily available, this weapon set is very useful in modern times. Yet, umbrella sets, surprisingly, are not common. This Shaolin Through-Cloud Umbrella Set is demonstrated by Cheong Huat Seng, who learned it from Grandmaster Wong about 30 years ago.
Some patterns, like "Horizontally Sweep Thousand Armies", "Dot Stone Become Gold" and "Beneath Leaves Search for Flower", are not precisely shown in the demonstration. Grandmaster Wong has said that if you wish to learn this set from the videos and pictures, don't worry about the finer points of these patterns. Just follow the videos and pictures as best as you can.
Grandmaster Wong has added that if an opportunity to teach this set arises, these patterns will be shown more clearly.
28th April 2013, Sungai Petani
---
Sequence 1
| | |
| --- | --- |
| | |
| 1. Dragon and Tiger Appear | 2. Lift Curtain Look at Moon |
| | |
| --- | --- |
| | |
| 3. Old Tree Fells with Roots | 4. Poisonous Snake Shoots Venom |
| | |
| --- | --- |
| | |
| 5. Swallow Returns to Nest | 6. Rain Passes Across Clear Sky |
| | |
| --- | --- |
| | |
| 7. Horizontally Sweep Thousand Armies | 8. Embrace Horse Through Clouds |
| | |
| --- | --- |
| | |
| 9. Jade Girl Lifts Pot | 10. Golden Beam Supports Sea |
| | |
| --- | --- |
| | |
| 11. Swallow Flies through Clouds | 12. Shoot Step Through Clouds |
Sequence 2
| | |
| --- | --- |
| | |
| 13. Return Horse Through Clouds | 14. Night Guard Tests Sea |
| | |
| --- | --- |
| | |
| 15. Scholarship God Dots Bushel | 16. Golden Boy Presents Beneficence |
| | |
| --- | --- |
| | |
| 17. Evening Sun Shines Slantingly | 18. Pierce Tiger in Forest |
| | |
| --- | --- |
| | |
| 19. Breeze Sways Lotus Leaves | 20. Flying Dragon Galloping Tiger |
| | |
| --- | --- |
| | |
| 21. Jump Step Through Clouds | 22. Phoenix Dots Head |
Sequence 3
| | |
| --- | --- |
| | |
| 23. Shoot Spear at Mystical Gate | 24. Poisonous Snake Basks in Mist |
| | |
| --- | --- |
| | |
| 25. Poisonous Snake Basks in Mist | 26. Yellow Oriole Drinks Water |
| | |
| --- | --- |
| | |
| 27. Iron Gate Closes Door | 28. Iron Gate Closes Door |
| | |
| --- | --- |
| | |
| 29. Bail Moon at Sea Nottom | 30. Reverse Striking of Purple Bell |
Sequence 4
| | |
| --- | --- |
| | |
| 31. Serpent Starts Dancing | 32. Hit Grass Startle Snake |
| | |
| --- | --- |
| | |
| 33. Hit Grass Startle Snake | 34. Hit Grass Startle Snake |
| | |
| --- | --- |
| | |
| 35. Poisonous Snake Shoots Venom | 36. Wild Wind Sweeps Leaves |
| | |
| --- | --- |
| | |
| 37. Catch Tiger in Mountain | 38. Immortal Plays Flute |
| | |
| --- | --- |
| | |
| 39. High Mountain Flows Water | 40. Immortal Draws Pictures |
Sequence 5
| | |
| --- | --- |
| | |
| 41. Swallow Flies Through Clouds | 42. Golden Hook Hangs at Corner |
| | |
| --- | --- |
| | |
| 43. Green Dragon Rolls in Sky | 44. Golden Dragon Shoots Tongue |
| | |
| --- | --- |
| | |
| 45. Golden Dragon Shoots Tongue | 46. Swallow Flies Through Clouds |
| | |
| --- | --- |
| | |
| 47. Chase Wind Pierce Tiger | 48. General Lays Formation |
Sequence 6
| | |
| --- | --- |
| | |
| 49. Separate Mist Seek Silence | 50. Breeze Sways Floating Green |
| | |
| --- | --- |
| | |
| 51. Dot Stone Become Gold | 52. Dot Stone Become Gold |
| | |
| --- | --- |
| | |
| 53. Beneath Leaves Search for Flower | 54. Slant Body Pierce Tiger |
| | |
| --- | --- |
| | |
| 55. Slant Body Pierce Tiger | 56. Wind Wraps Scattered Clouds |
| | |
| --- | --- |
| | |
| 57. Swallow Flies Through Clouds | 58. Move Body Little Jump |
| | |
| --- | --- |
| | |
| 59. Big Opening of Umbrella | 60. Iron Umbrella Turns Round |
| | |
| --- | --- |
| | |
| 61. Spider Charges at Face | 62. Snow Flakes on Top |
| | |
| --- | --- |
| | |
| 63. Chop the Hua Mountain | 64. General Keeps Umbrella |
LINKS
Umbrella Set in Videos
Courses and Classes