MINIMIZING A BOXER'S SKILLS BY KEEPING HIM AT BAY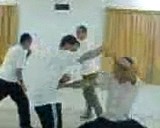 At the start of the training sessions devoted to countering Boxing attacks, course participants are told the principle of minimizing a Boxer's skills and exploiting his weakness, and are asked to work out their own techniques against a Boxer's attacks.
Many of them use the pattern "Fierce Dragon Across Stream" to keep a Boxer at bay — a technique they learned earlier from Sifu Kai Uwe Jettkandt at Warrior Project courses. This effectively minimizes a Boxer's skills.
---
Please click the picture or the caption below to view the video

Minimizing a Boxer's Skills by Keeping him at Bay from Wong Kiew Kit on Vimeo.
LINKS
Overview
Courses and Classes