COUNTER-ATTACKING A BOXER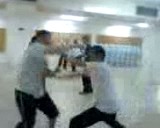 After minimizing a Boxer's skills by keeping him at bay, the next step is to attack the Boxer using techniques that he is not normally trained in his art, such as kicks and elbow strikes. The tactic of pressing attacks is also used. This is exploiting his weakness.
---
Please click the picture or the caption below to view the video

Counter Attacking a Boxer from Wong Kiew Kit on Vimeo.
LINKS
Overview
Courses and Classes