MINIMIZING HIS STRENGTH AND EXPLOITING HIS WEAKNESS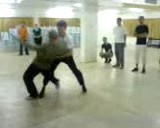 Mark and Simon, both assistant instructors of Shaolin Wahnam England, show the class some effective techniques they have worked out themselves from their sparring session against a Boxer. Mark uses a "dragon's hand" to deflect a Boxer's fast attacks, and overcomes him with a technique — a backward throw — that he is not normally trained to counter.
By means of good footwork and "closing" the opponent's hands, Simon minimizes the speed and agility of a Boxer, then counter-attacks with kicks, which a Boxer is normally ill-trained to defend against. Laughter is a common feature in Shaolin Wahnam training.
---
Please click the picture or the caption below to view the video

Minimizing his Strength and Exploding his Weakness from Wong Kiew Kit on Vimeo.
LINKS
Overview
Courses and Classes