USING AN ATTACK WHERE HE HAS NO DEFENCE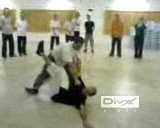 Ronnie of Shaolin Wahnam Switzerland applies "Felling Tree with Roots" to fell a Boxer, posed by Hubert of Shaolin Wahnam England, again using an attack technique where there is no defend in Boxing, because such an attack is not allowed by Boxing rules.
Notice also that Ronnie grips Hubert's arm for the backward throw, and a Boxer within his art would not know how to release the grip, again because grips are not allowed in Boxing. These are two examples of exploiting a Boxer's weakness.
---
Please click the picture or the caption below to view the video

Using an Attack where a Boxer has No Defence from Wong Kiew Kit on Vimeo.
LINKS
Overview
Courses and Classes