EFFECTIVE TECHNIQUES AND TACTICS AGAINST A BOXER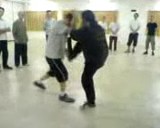 Joshua of Shaolin Wahnam USA demonstrates then explains some effective techniques as well as tactics against a Boxer, posed by Chris of Shaolin Wahnam England. These include the techniques of gripping and kicking, which a Boxer is not professionally trained to defend against, and the tactic of "one against two" where Joshua can control both of a Boxer's hands with just one hand. This is another example of exploiting an opponent's weakness and minimizing his strength.
---
Please click the picture or the caption below to view the video

Effective Techniques and Tactics against a Boxer from Wong Kiew Kit on Vimeo.
LINKS
Overview
Courses and Classes