TAKING THE INITIATIVE ON A BOXER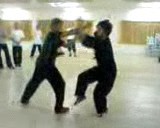 Taking the Initiative on a Boxer
Sifu Wong compliments Jamie of Shaolin Wahnam Scotland for using a tactic that is quite different from the others shown earlier. While the others react on a Boxer's initiative, Jamie takes the initiate and presses on the Boxer. As soon as the Boxer moves, Jamie moves in and presses on with a few attacks, reversing the speed advantage of the Boxer. Jamie can do so by means of excellent body-work and foot-work.
---
Please click the picture or the caption below to view the video

Taking the Initiative on a Boxer from Wong Kiew Kit on Vimeo.
LINKS
Overview
Courses and Classes