COMBAT SEQUENCE PRACTICE (PART 1)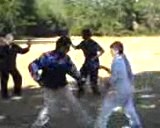 Combat Sequence Practice (Part 1)
This is the first of the basic Shaolin Combat sequence for the training of combat efficiency. The initiator attacks with "Black Tiger Steads Heart", and the responder responses with "Single Tiger Emerges from Cave". The patterns are pre-arranged. The patterns are purposely reduced to a minimum so that the students can focus on developing combat skills, especially on right spacing, right timing and right forms.
The size of the video clip is 4.66 MB.
Click here to download.
LINKS
Courses and Classes